Food Drive
Training By Tye group personal fitness training in Rancho Cucamonga will hold a food drive at the studio on April 9th to collect food for GAP Food Bank of Rancho Cucamonga.
The GAP Food Bank provides basic food items to nearly 400 families here in the community each week. The GAP provides over $2 million in food each year and the primary source of revenue is free-will donations.
Training By Tye group personal  fitness is ready and willing to not only help an amazing organization, but one that our very own Tyetan Tina holds near to her heart.
The need for food is high this spring! People typically donate around the holidays which is why we wanted to wait until after Easter for our awesome first food drive of 2016.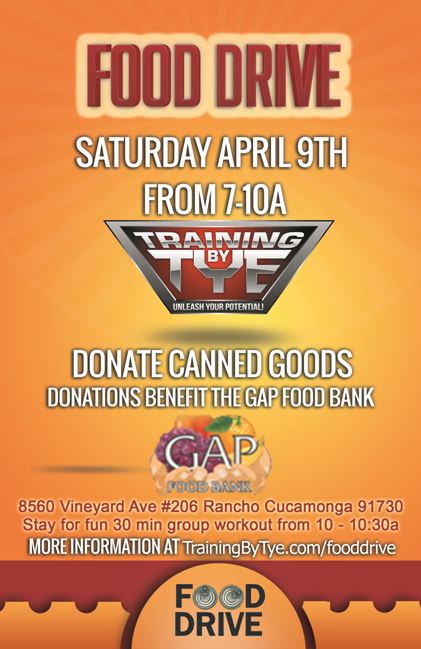 Current Tyetans can donate all week and we'd like to see everyone you know get involved in hunger relief by making a food donation on April 9th, and then join us for a fun 30 min group training workout.
A food collection bin will be located in the front of the training studio for items such as canned meats, vegetables, pastas and fruits and boxed goods.
We will be receiving donations from 7a until 10a on Saturday April 9th.
Anyone who donates is invited to stay for the group workout as our way of saying Thank You for helping us WORKOUT A SOLUTION TO HUNGER!
Please share this, the Facebook post, and FB event to all your friends so we can set the bar high for future drives.
In addition to donating to the food drive people can also make a monetary donation or volunteer time at the GAP food bank; More information is on http://gapfoodbank.org