Pushup Fundraiser
We're hosting a fundraising event for our neighbor Darlene on August 19th here at Training By Tye. Darlene was diagnosed with Ewing Sarcoma PNET back in January.
Last year she was a regular kid doing regular kid things and in matter of a few weeks everything in her world shifted.
You can read her whole story here <====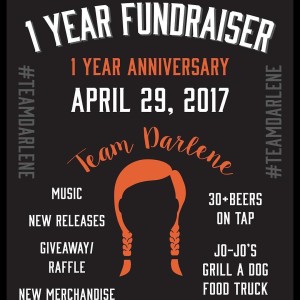 I'm sure I don't have to tell you about medical bills; a few months ago her family hosted a fundraiser at their business, Kings Brewing Co., and we are eager to help them with another.
We're going to do what Tyetans do best and workout to raise money for her family to help take some of the pressure off of the family who shoulder this enormous responsibility.
We will be collecting donations in the form of pledges for pushups (or squats). To participate just call or email us to get a pledge form and then begin asking your friends and family to pledge money for each pushup (or squat) you do in one minute. Then on Saturday August 19th at 9a invite your sponsors to watch you do your pushups for 1 minute to find out your donation amount. That's it.
It will be a fun event in a great giving atmosphere. There will be light refreshments as well as a silent auction where you can donate even more towards this awesome girl.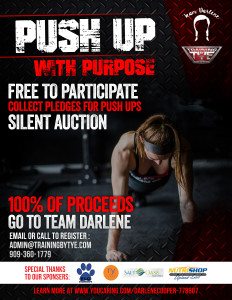 So come out and show your support by completing as many pushups (or squats) as you can in 60 seconds. Each pushup is your gift for Team Darlene.  
Speaking of gifts, the participant that raises the most will get a special TBT gift basket!
Each participant is encouraged to raise $100, but any amount will be of great help. For reference if you can do between 15-20 pushups or squats in a minute suggest a pledge of $1 per rep from about 8-12 sponsors.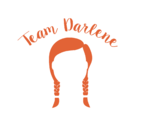 If pushups and squats aren't your thing then give your gift directly on the website and in the message box please include #TBTforDarlene so we can see how many supporters came from this event.
Didn't read the whole thing, here are the basics:
Pushup/Squat challenge to raise funds for Darlene August 19th 9a

Call 909-360-1779 or email admin@TrainingByTye.com to get a pledge form

Get pledges per pushup (or squat) then c

ome down to the studio and participate for 1 minute to earn pledged funds

Stay for the silent auction 

Do something great for someone else and feel awesome

If you don't want to do any exercise then give your gift directly and in the message box include #TBTforDarlene 
Thanks for your support and we'll see you at the studio.