Tyetan Of The Month Kristi S
Training By Tye in Rancho Cucamonga presents our TYETAN Of The Month
Each month we will select a member that is consistently hard working and a valued team member who has demonstrated what it means to be a Tyetan.

Tell us about yourself.
My name is Kristi, I live in Corona I'm 41 years young, and I work out here in Rancho Cucamonga as a client service representative at a payroll company sitting behind a desk for 8 hours a day.
What were things like for you before joining Training By Tye?
Before joining I basically ate whatever I wanted and didn't do much of anything. My back would hurt just from walking around which made me not want to do much and kept me lazy.  After a visit to the doctor I realized how unhealthy my labs were. My self esteem was low and I hated any picture that showed more than my face.
So why did you join TBT?
I wanted to do something, but I was embarrassed that I might look like I didn't know what I was doing in a group class or afraid of people looking at me in judgment and laughing. So when I came to the studio to watch my sister do her FitRanX level 3 test (she had been a member here for 8 months)  I saw how everyone was like a family and supporting everyone else while they were doing their level tests. I even spoke with a few other members and they said that there was no judging and that there is only support for one another. That's when I decided to join going 2 days a week. After just 2 months I knew I wanted to go to 3 days a week and I would do more if my schedule allowed.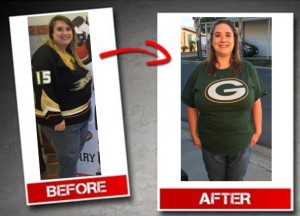 What was your first impression of your Training By Tye experience and workouts?
I LOVE the small training sessions! I have access to my friends bootcamp, but I didn't want to just be number 16 of a class of 30 people. As far as the first few workouts, I can't lie, they were hard and I questioned why I started. But the best part was that I could do everything, it was just hard. Tye definitely pushed me, but not too far, and also let me know when I was doing well. I felt good knowing that she wanted me to succeed. After that first month I was so glad I decided to join.
What tools have benefited you most while training?
The main tool has been the nutrition guide I was given during the challenge. This has taught me how to eat properly, not only what foods are helpful but when to eat and how much is best. Now when I go out I make better choices. I've learned that weight loss and keeping it off takes time.
How is Training By Tye different from things you've done before? What makes us unique?
I have only done walking on my own and a few dvd's at home so this was great having some accountability. What's unique is the small session size which gives Tye the ability to watch and coach you during the training session so you are doing things correctly as to not hurt yourself. As I mentioned before she gives you nutrition information and the tools to be successful. Gyms don't have any of those things not to mention having to wait to use equipment.
What results and benefits have you experienced thus far?
Oh my gosh, where do I start. Just one month in, I was sitting in a booth at a restaurant and when we were getting up to leave I just turned and stood up. I was so excited that I sat down and did it again! I didn't have to slide out, I could fit and had the strength to turn and get up; this was the first time I was able to do that in so long!
Second month I was down 15 pounds, and my coworkers and friends were giving me so many compliments. By the third month every single blood test from my doctor came back with better results than before and my self confidence was through the roof. 4 months in I was down 2 dress sizes and about 20 pounds, I passed my FitRanX level 1 test and had to buy new clothes because nothing fit!
Fast forward to month 6 and I'm down another size and over 40 pounds. I am the smallest I have been in at least 7 years. I can do push ups, run without feeling overwhelmingly out of breath, and I can even see some muscle definition in my arms and legs. My coworkers tell me that I am an inspiration.
What would you say to anyone looking at joining Training By Tye?
Just do it. Training By Tye is not like a gym or a boot camp, there is so much support here it makes it feel like a family. Everyone wants you to succeed and is genuinely happy when you do. I feel good, healthy, and fit; if I can do it so can you. Training By Tye will change your life!

If you too would like to start changing your life and getting results like Kristi is doing then click the button above to test drive Training By Tye. We will contact you and set you up for success.